Thirsty Pet Water Bottle Stand
Ideal gift for extra small to
medium sized Dogs & Cats
& many other animals too!
Our Heavy Duty BPA Free Water Bottles stay put in the stand with every lick to the spout/adapter. This adapter helps to keep faces Dry,
Clean & Sanitary!
Total weight: 3lbs 14oz.
9 L x 9 W x 19.25 H
Our water bottle stand design is sleek, heavy duty & you can add your own stickers/bling to the stand. See more pictures below!
The Nozzle height is flexible to move with just a twist from the knob to loosen and adjust from 4.5 inches off the floor to
14 inches from the floor.
​
Every Water Bottle Stand Includes:
1 x Hand Cut PVC Water Bottle Stand
1 x 32 oz Heavy Duty Clear Plastic Bottle,
(manufactured in USA)
1 x Water Bottle Adapter, (manufactured in Taiwan)
Features:
Durable, safe, sleek, functional.
Pet faces stay dry keeping the face sanitary.
Easy to clean with mild soap.
Height adjustable for growing pets.
Convenient for busy pet owners.
Portable - Take just the bottle & adapter or take all.
Great for short nosed breeds.
For extra small to medium sized dogs/cats & other critters.
Easy to use
Add your own "Bling/Stickers" to personalize.
​
Add a 3/4" Fishing Bobber, to keep track of the water level
Design the look that you want for your Water Bottle Stand!
Use Stickers, bling it up & apply 3D items or Paint.
​
​
The
water bottle
adapter should be
at nose height so the pet
can tip their head up
slightly to drink from the
adapter.
​
When they lick the mechanism on the adapter it allows the water to
flow out onto the tongue
quenching your pets
thirst.
​
​
Note the base is a slightly different white than the tube. We only offer in the white color only.
​
It will never rust & no small
pieces to break off.
The stand also has helped
animals with health conditions such as cleft palate or neurological concerns to be
able to drink independently
without assistance.
​
This is for all you "Die Hard" fans of the Lixit Water Bottle......
​
Just remove the 32oz bottle the stand comes with & add your own 32oz Lixit Bottle! :)
Customer is responsible for return shipping costs.
Water Bottle Stand must return back to us brand new with all parts/unused for sanitation reasons.
We refund cost of product only, minus credit card/pay pal fees incurred by us and minus a restocking fee of $10.00. Refund will be rendered within 60 days after purchase date and after Water Bottle Stand and parts are returned in mint condition.
Make sure your pet will drink from the Water Bottle Stand before purchase. We will not refund for pets whom will not drink from Water Bottle Stand.
Repackage the Water Bottle Stand in the original box and packaging for return.
Provide us proof of tracking number.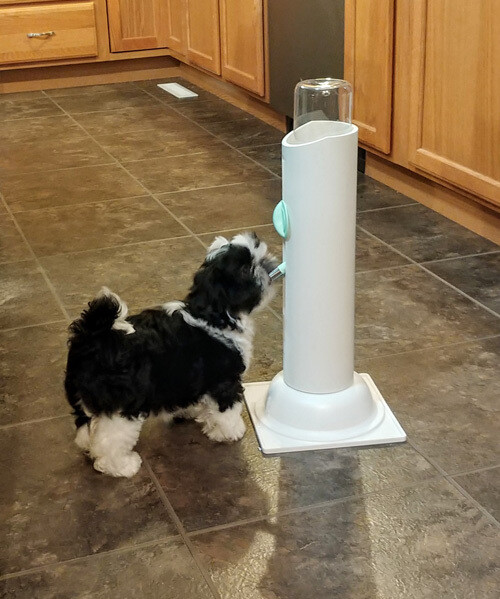 Please
note when
making a purchase thru
this platform to only order
one water bottle stand at a time. Per the shipping feature is unable to calculate 2
or more correctly.
Thanks!
Thirsty Pet Water Bottle Stand