​Our Thirsty Pet Water Bottle Stand is a HIT
with the dogs!
Self waterer & portable!
If you are seriously interested in a future puppy from us, fill out the form on the contact page to be considered. Our puppy price is $1650.00
​
Click here to check out our Water Bottle Stand!
Located in Illinois:
2.0 hrs from Chicago,
1.5 hours from Iowa City,
4.5 hrs from St. Louis Missouri,
1.5 hour from Wisconsin.
Tel: 815-499-8170
Ryan's Shih Tzu is a small private hobby Shih Tzu breeder in Illinois. Our goal is to better the breed. We do have puppies available occasionally & easily available in Iowa, Wisconsin, Michigan, Minnesota, Indiana & Missouri.
County Inspected/AKC Inspected
Welcome to the Past, Present & Future of Ryan's Shih Tzu
WE LOVE OUR
SHIH TZU PUPPIES!
We strive to create healthy, happy & structurally sound
Shih Tzu.
​
Sometimes we offer older Shih Tzu puppies & young adults.
​
We offer Shih Tzu puppies for adoption to the public on occasion.
​
Always placed in nurturing & responsible homes!
Bringing out the new kids soon!
Stay tuned.......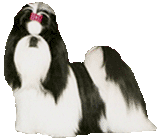 Spay & Neuter Agreement
​
Health Guarantee
​
American Kennel Club - AKC Registerable
​
We can refer you to a Pet Nanny to transport your shih tzu to your location
​
​