Welcome to the Past, Present & Future of Ryan's Shih Tzu
Thirsty Pet Water Bottle Stand
My Friend Joan has Solid gold black mask 16 week old male pups available! Call Joan @ 563-299-6095
Quality pups @ $1200.00.
We here at Ryan's Shih Tzu have 1 male &
1 Female to place, they will be ready to leave on the 27th of August.
​
Contact us @ 815-499-8170
​
Ryan's Shih Tzu is a small priviate hobby Shih Tzu breeder in Illinois.
Our goal is to better the breed. We do have puppies available occasionally & easily in Iowa, Wisconsin, Michigan, Minnesota, Indians, Illinois & Missouri.
Located in Illinois:
2.0 hrs from Chicago,
1.5 hrs from Iowa City,
4.5 hrs from St. Louis Missouri,
1.5 hrs from Wisconsin.
​
County Inspected/AKC Inspected Licensed Breeder 2023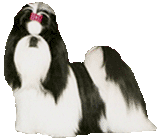 WE LOVE OUR
SHIH TZU PUPPIES!
We strive to create healthy, happy & structurally sound
Shih Tzu.
Sometimes we offer older Shih Tzu puppies & young adults.
We offer Shih Tzu puppies for adoption to the public on occasion.
Always placed in nurturing & responsible homes!
​
​
​
"SPRITE" Is now
American Champion
Ryan's Can't Stop This Feelin'
​
We started in February 2022 & selectively went to a show here and there and just finished on May 12th 2022. Sprite has done very well & we are so proud of her!
Sprite will be getting a hair cut soon after the points have cleared with AKC. We have high hopes for her, daughter of the our handsome Chip. We hope that she will continue to stamp her sires virtues on future off spring. Every year we strive to make a difference with improving this beloved breed & so blessed to work with others who have the same intentions.
Below is our baby girl at 7 months of age, Sprite!
Spay & Neuter Agreement
​
Health Guarantee
​
American Kennel Club - AKC Registerable
​
We can refer you to a Pet Nanny to transport your shih tzu to your location
​
We DO NOT place/sell Shih Tzu just for breeding purposes
​
​
Content and Photos Copyright 2022 of Ryan's Shih Tzu of Illinois. All Rights Reserved.
Shih tzu puppies for sale in Illinois, Wisconsin, Iowa, Michigan, Missouri, Minnesota & USA.