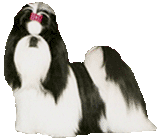 WE LOVE OUR
SHIH TZU PUPPIES!
We strive to create healthy, happy & structurally sound
Shih Tzu.
​
Sometimes we offer older Shih Tzu puppies & young adults.
​
We offer Shih Tzu puppies for adoption to the public on occasion.
​
Always placed in nurturing & responsible homes!
Every year we strive to make a difference with improving this beloved breed & so blessed to work with others who have the same intentions.
Below you will find "M.J." Named after his dam Mira & his sire James.
Ryan N Jolisse's It Takes 2 To Tango, Already acting like a superstar flaunting his first wins in the show ring.
Spay & Neuter Agreement
​
Health Guarantee
​
American Kennel Club - AKC Registerable
​
We can refer you to a Pet Nanny to transport your shih tzu to your location
​
We DO NOT place/sell Shih Tzu just for breeding purposes
​
​
Content and Photos Copyright 2021 of Ryan's Shih Tzu of Illinois. All Rights Reserved.
Shih tzu puppies for sale in Illinois, Wisconsin, Iowa, Michigan, Missouri, Minnesota & USA.